Boat Backfire Arrestors Explained
If you have a boat with an inboard engine, it should be equipped with a device called a "Backfire Flame Arrestor".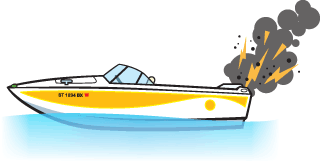 This piece safety equipment has been required on motorboats with inboard engines since 1940; yours should be approved by the U.S. Coast Guard and either the Society of American Engineers or United Laboratories.
As the name suggests, the purpose of a boat backfire flame arrestor is to stop flames, which can result from an engine backfiring, from coming into contact with other fuel and starting a fire on board your boat.
To do this important job, the backfire flame arrestor needs to be in good condition. So include an inspection and cleaning of the arrestor as part of your monthly fire extinguisher maintenance. You'll want to look out for holes or other damage to the arrestor, and check to make sure it is still tightly fastened to the carburetor.